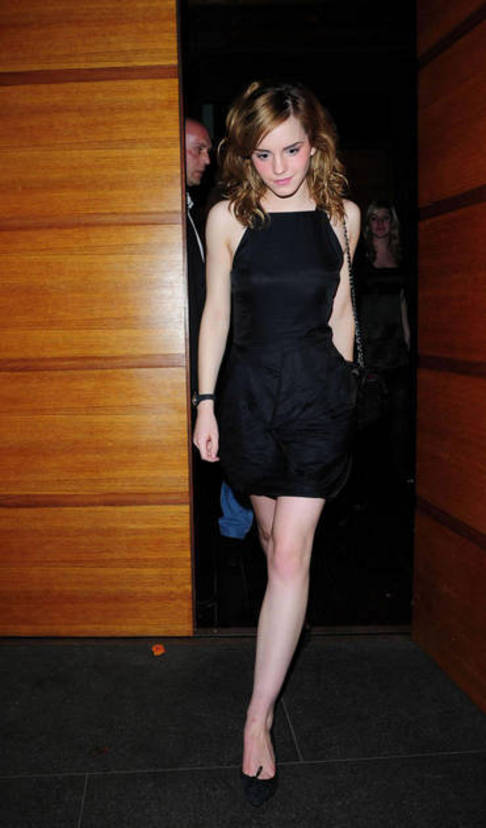 Londýn - Herečka Emma Watson, známá zejména jako představitelka Hermiony Granger ve filmech o Harry Potterovi, slavila své osmnácté narozeniny.Více v celém článku!

---
Při té příležitosti se objevily fotografie, na kterých oslavenkyně ne a ne udržet nožky pohromadě.
Vypadá to, že si místo obličeje nechala "vyblejsknout" rozkrok.
Zatímco se mužská část publika může těšit, ženská se nepřestává zhrozeně ptát: to o tom vážně neví?!
"Emma měla v sobotu večer naprosto kamenný obličej, i přesto, že ji čekal bombastický flám při příležitosti osmnáctých narozenin. Hereččin úsměv v objektivech nezazářil. Místo toho tam zasvítilo něco úplně jiného," okomentoval událost britský denník The Sun.

Oslavy v Mayfairské restauraci Automat se dle plátku zúčastnil i Tom Felton, který v Potterovské filmové sérii ztvárnil Malfoye.
Pokud jste sledovali Harryho Pottera v naději, že se naučíte nějaká nová kouzla, asi jste odešli s dlouhým nosem. Pokud se vám však při koukání honila hlavou otázka, jestli se Hermiona Granger holí, dnes je váš velký den. Mohli bychom vám zatřást rukou, ale máme-li být upřímní, nejsme si úplně jistí, jestli je to zrovna příjemné zjištění.
Zdroj: aktualne.centrum.cz